Delivering Milk & More Direct to Your Door
About Kay's Dairy
Kays Dairy is a local and traditional family based dairy depot based in Pemberton near Wigan.
It was started in 1954 by Mr Kay (senior) and is now managed by his sons.
With all these years in the milk Industry, we know what our customers expect and how to provide a great customer service.
Local Farms
Our aim is to provide local farmed milk and produce delivered straight to your doorstep, with as little fuss as possible.
We only use farms that are within a 20 mile radius for our milk, and the other fresh produce like eggs and potatoes are from farms around the Wigan area.
Reduce Carbon Waste
We think this is important to keep local as to reduce carbon waste and to generate income for the local area.
And, of course, milk just taste better from a glass bottle!
We still use the returnable glass bottles for our deliveries, and have done since the beginning of our company. We find that using these keeps the milk fresh and gives it that fresh taste that plastic containers cannot match.
Supporting the Local Community
We like to support local charities, and think it's important to give something back to the community of the Wigan area for supporting us. We support local food banks, and the Wigan Hospice. Other local charities will also be supported.
We still use electric milk floats for most of our deliveries. These help us to be quiet in the early hours and are eco friendly, and help us to be traditional, which is important to us.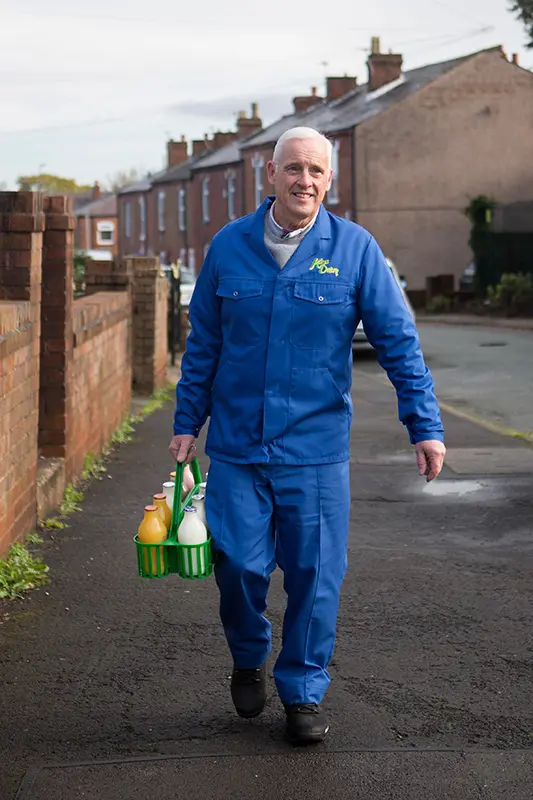 Do we deliver to your area? Enter your full postcode.
More Than Just Your Local Milkman
At Kay's Dairy we are more than just local milkmen in Wigan.
We are an innovative local grocery and milk delivery service, supplying our local community with a wide range of high quality dairy products and fresh groceries daily – all delivered free to your doorstep or business throughout the Wigan and South Lancashire area.
We combine the highest level of traditional customer service with a progressive approach to continually improving the service and convenience we offer, including an online grocery shopping service and choice of payment options, direct debit and online payments.
Success Through Service
The success and growth of Kay's Dairy is due to our total commitment to provide the highest level of customer service to both retail and business customers alike. That is why so many of our customers have stayed loyal to Kay's Dairy for many years. They value our reliable delivery men, fresh produce and traditional values, which means our steady growth is continuing.
However, no matter how large the company becomes, we will always stand by our main objective of satisfying our customers with the best service possible, that is why we say Kay's Dairy means "First for Service".
"we always put our customers first"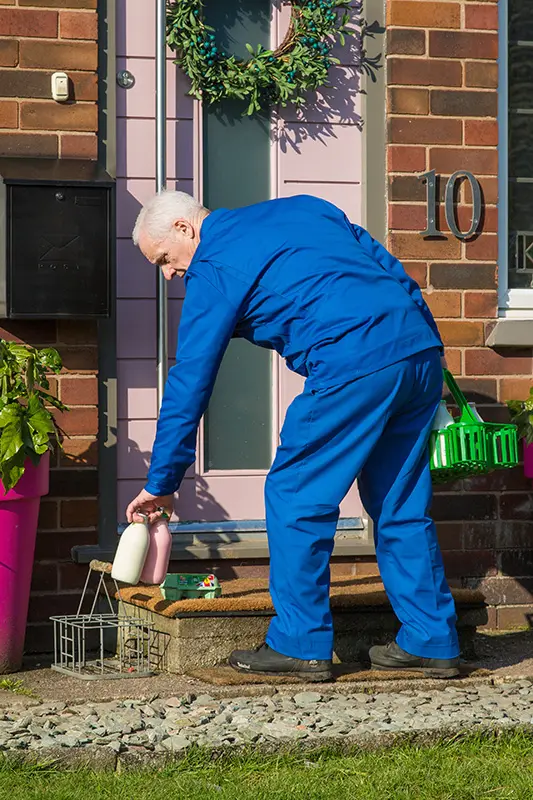 What Our Customers Are Saying
This delivery service is extremely reliable. The milk and eggs are lovely! Changes to your order can be done on line and a clear account update is available. Of course there is the added benefit to the world of recycling the glass bottles.
Excellent dairy. I've been a customer for over 20 years. The few times a mistake occurs it is always sorted within the hour. The staff are very friendly and helpful. The range of products available and the price is very competitive . I would not hesitate to recommend them.
When I tell people I have my milk delivered the first thing they say is how much cheaper it is in the shops. That's true, but I'd sooner support a local business and the cost isn't that big. I love waking up to a pint on my doorstep. The direct debit is easy and convenient too.
Great friendly staff and excellent service.
Been a loyal customer for many years- excellent service, reliable firm, quality products. Thank you for being amazing!
Very helpful. Never let us down on delivers.
Fresh Milk and Cereal
A breakfast staple, delivered right to your door!