Delivering Milk & More Direct to Your Business
Milk Supplies for Shops and Businesses
Kay's Dairy has been delivering milk and dairy products to many local hotels, schools and businesses since 1954.
We are always looking to expand our commercial services and attract new business customers, as being local means that we can offer guaranteed delivery times to any location within the Wigan and surrounding areas.
If you buy products for a shop, school, restaurant, hotel, canteen or staff room please get in touch.
Full Range of Milk, Dairy and More
We supply a full range of milks and dairy products – as well as over 100 other items ranging from bread to teabags and toilet rolls – in any quantity to local businesses.
From orders of thousands of pints a week to just two or three pints, Kay's Dairy will always put our customers needs first and pride ourselves in providing the highest quality of products and service, every time.
Set Up a Business Account
To discuss your requirements further or to set-up a business account with Kay's Dairy, please contact our Sales Department and be assured that your enquiry will receive our immediate attention.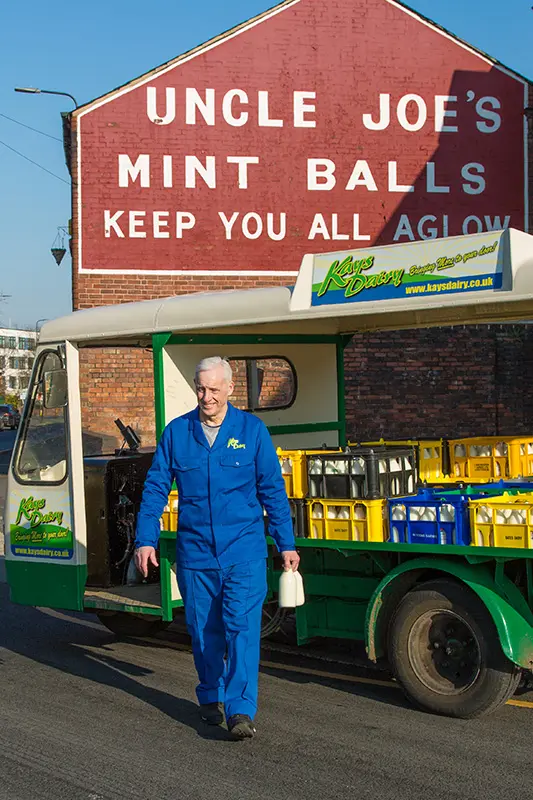 Do we deliver to your area? Enter your full postcode.
What Our Customers Are Saying
This delivery service is extremely reliable. The milk and eggs are lovely! Changes to your order can be done on line and a clear account update is available. Of course there is the added benefit to the world of recycling the glass bottles.
Excellent dairy. I've been a customer for over 20 years. The few times a mistake occurs it is always sorted within the hour. The staff are very friendly and helpful. The range of products available and the price is very competitive . I would not hesitate to recommend them.
When I tell people I have my milk delivered the first thing they say is how much cheaper it is in the shops. That's true, but I'd sooner support a local business and the cost isn't that big. I love waking up to a pint on my doorstep. The direct debit is easy and convenient too.
Great friendly staff and excellent service.
Been a loyal customer for many years- excellent service, reliable firm, quality products. Thank you for being amazing!
Very helpful. Never let us down on delivers.
Fresh Milk and Cereal
A breakfast staple, delivered right to your door!