Delivering Milk Direct to Your School
Milk Supplies for Schools & Nurseries
Kay's Dairy has been delivering milk to local schools and businesses for many years and is keen to promote the health benefits of milk through all the schools in the area, with educational visits, booklets, posters and also the internet.
Working With Local Schools 
We aim to inform the younger generation about milk and the milk industry and would like to work with local schools and nurseries.
If you are a teacher, assistant or governor please contact us and let us know any way we can help support your curricular work or projects. This could be on topics that cover healthy eating, food production, farming or food technology. We would love to help!
Free Milk Trial Available
Your school can receive milk FREE for one week's trial, plus have a free cool fridge for milk storage.
If you have a nursery we also deliver under the Free Nursery Milk Scheme, completing all the paperwork so you don't need to pay or reclaim anything.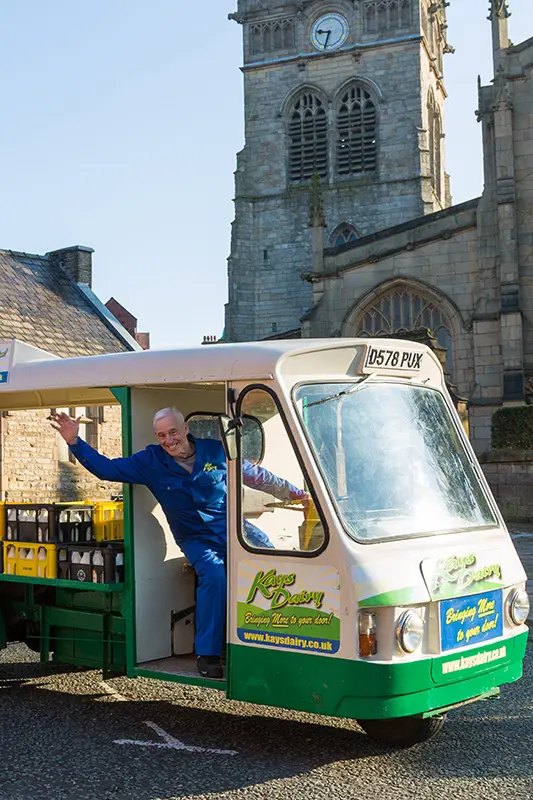 Do we deliver to your area? Enter your full postcode.
What Our Customers Are Saying
This delivery service is extremely reliable. The milk and eggs are lovely! Changes to your order can be done on line and a clear account update is available. Of course there is the added benefit to the world of recycling the glass bottles.
Excellent dairy. I've been a customer for over 20 years. The few times a mistake occurs it is always sorted within the hour. The staff are very friendly and helpful. The range of products available and the price is very competitive . I would not hesitate to recommend them.
When I tell people I have my milk delivered the first thing they say is how much cheaper it is in the shops. That's true, but I'd sooner support a local business and the cost isn't that big. I love waking up to a pint on my doorstep. The direct debit is easy and convenient too.
Great friendly staff and excellent service.
Been a loyal customer for many years- excellent service, reliable firm, quality products. Thank you for being amazing!
Very helpful. Never let us down on delivers.
Fresh Milk and Cereal
A breakfast staple, delivered right to your door!